RAW shooting
Beginning with version 2.x, Camera FV-5 while running under compatible Android Lollipop devices, can shoot true 16-bit RAW photos as well as the usual JPEG. RAW photos are stored in the industry-standard DNG files (Adobe Digital Negative). RAW photographs store exactly the information as it was captured by the sensor, with no processing applied. Therefore, you can extract a lot of detail from the RAW image, and also you can process it to your liking, adjusting exposure from a greater dynamic range source, adjusting white balance, and applying any kind of noise reduction algorithm, just to name a few.
How to enable RAW capture
First, ensure that you have the latest version of Camera FV-5 from the Play Store, specifically the Android Lollipop-aware version. If your phone supports RAW capture and you have Android Lollipop, follow these steps to enable RAW capture.
Open the Settings panel (tap on the cog icon on the top left corner of the screen).
Select the Photo encoding settings tab (2nd).
Enable the option Enable RAW capture.
When you enable RAW capture, you will get JPEG+DNG (i.e. both developed and raw images). The RAW photos are stored as DNG files. The file names match the ones of the JPEG files that you can completely customize. Also, DNG files are stored on the same folder used to store the JPEG images, and you can choose any folder on your internal memory to store your pictures.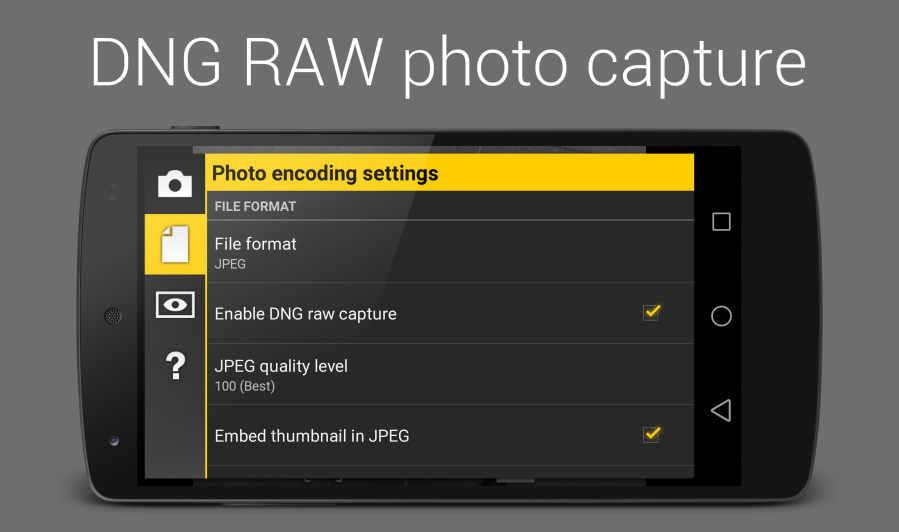 comments powered by